How are Agencies adapting to meet new challenges?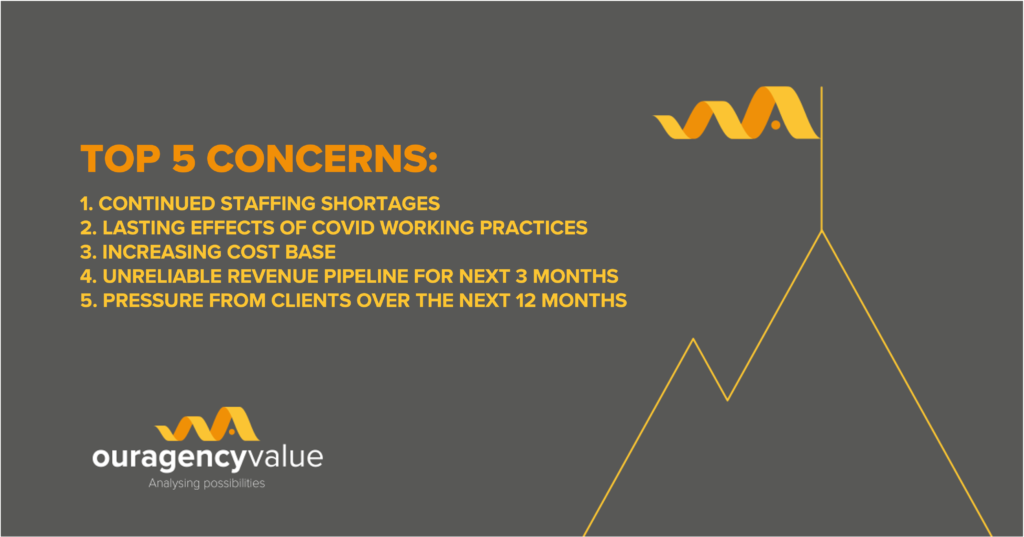 Over the past few years have been particularly difficult for Agencies of all shapes and sizes in the UK. Covid has disrupted our industry and shifted how we work, potentially for a long time. Talking to Agency founders and leaders, it's clear they have had to prioritise keeping their Agencies viable during the pandemic. But how are they feeling about the future challenges over the next 12 months?
It is no surprise that 320 agencies' valuations on our database report their number one fear is staff retention / turnover as agencies adapt to hybrid work patterns and workers wanting a mix of working from home and the office. Agency are considering options to meet this demand and moving to a permanent hybrid model.
What are Agency Owners / Boards most concerned about?
The top five concerns expressed by Agencies are:
1. Continued staffing shortages
2. Lasting effects of Covid working practices
3. Increasing cost base
4. Unreliable revenue pipeline for next 3 months
5. Pressure from Clients over the next 12 months
As a result of staff shortages, agencies are streamlining their agencies' processes, empowering Client service teams and strategic planners to serve their Clients better by being more responsive and attentive. And with the help of digital marketing analytics, commercial data and frequent reviews, they can make better decisions. More than a third of agencies are investing more in leadership training and coaching programmes, although they don't expect this to change overnight but the early indications appear promising.
Increased complexity of operations resulting from COVID and continued digital transformation of agencies all mean that there are multiple moving parts between different locations and marketing disciplines. On average, the cost base is increasing between 6-10% where there are real pressures on sustaining margins.
Whilst agencies continue to be agile and flexible, revenue and earnings visibility are a challenge placing more pressure on new business activities and being even more selective when and what to pitch for. Agencies are using a variety of tools to attract more inward bound opportunities and using analytics to predict likely success, thereby prioritising pitches based on revenue, relevance to agency credentials and the number of agencies invited to pitch. Agencies are expecting and even planning to invest more in digital technologies, 90%, compared to 82% in developing skills.
We use our agency valuation data to help agency owners prioritise their future investment decisions to transform their agency businesses. Get your valuation today!