Why every Agency should understand their own value metrics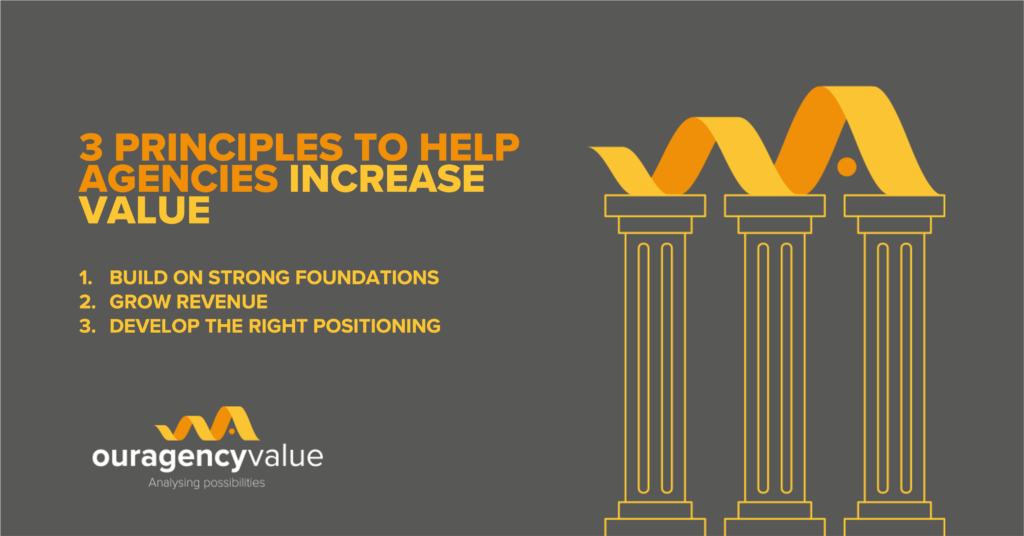 Investing in your Agency is, or should be about, building value for yourself (shareholders), your Clients and employees. We believe this should be straightforward, easy and rewarding.
There is no disputing that Agencies highlight their value when they're pitching for new businesses, therefore why don't agencies know how to create and measure value of their businesses?
In this piece, we highlight a set of three fundamental principles to help Agency founders and leaders who do understand the value metrics to increase value. Whether you're just about to start planning to build value or are well on your way, these principles are designed to help lay the foundations by simply defining objectives, developing an Agency value plan for the long-term and taking action.
1. Build on strong foundations
Simply, any agency embarking on building value needs to commit to the long-term, nothing 'really' can be achieved in 3-6 months before a sale, so you will need a solid financial platform. Before you begin, we recommend you consider the following:
Clear any debt – where possible, pay off any unsecured or illogical debts
Develop a proven track record – demonstrate the agency delivers on budgets and forecasts for a least 2 years
Maximise resources – understand and improve the people utilisation rate, remove wastage and monitor progression
Avoid unprofitable work – although it benefits the cashflow position, it doesn't strengthen the business and reveals other problems
Monitor cash flow – simply cash flow projections showing increases will attract better quality buyers
2. Grow Revenue (Potential)
Having secured a strong financial foundation, the next priority is the growth track record of the Agency and projections for the next 2 years. Growth forecasts, confidence and culture are essential for expansion ensuring the Agency gets bigger, more profitable and ultimately, sustainable. Something from our experience, smaller agencies struggle to achieve over the medium term. We suggest you consider the following: –
Identify growth opportunities – develop a process and discipline to ensure a combination of inward and outward leads
Mobilise advocacy – maximise the referral programme throughout the Agency, supply-chain, Clients and intermediaries
Demonstrate accurately a proven new business track record, ideally a 33-50% conversion rate
Insightful and action-orientated Client account plans – avoid being over reliant on one dominant Client and a number of growing accounts
3. Develop the right positioning
As we know already, any agency positioning is fundlementally driven by its values, behaviours, leadership team and how the Agency solve Client problems. In today's world, a smaller positioning niche indicates an increased likelihood the Agency owns area and also, the values need to be genuinely integrated in most things the agency do and why they do it. So, any unified culture and purpose usually indicate strong people and Client retention. Finally, like any strong sustainable brand positioning, knowing your market, target list, and why Clients are drawn to the Agency and how you communicate the offer and pitch.
Want to understand the value of your agency? Get a quick and accurate valuation