Inflationary pressures affecting UK agencies. What we can do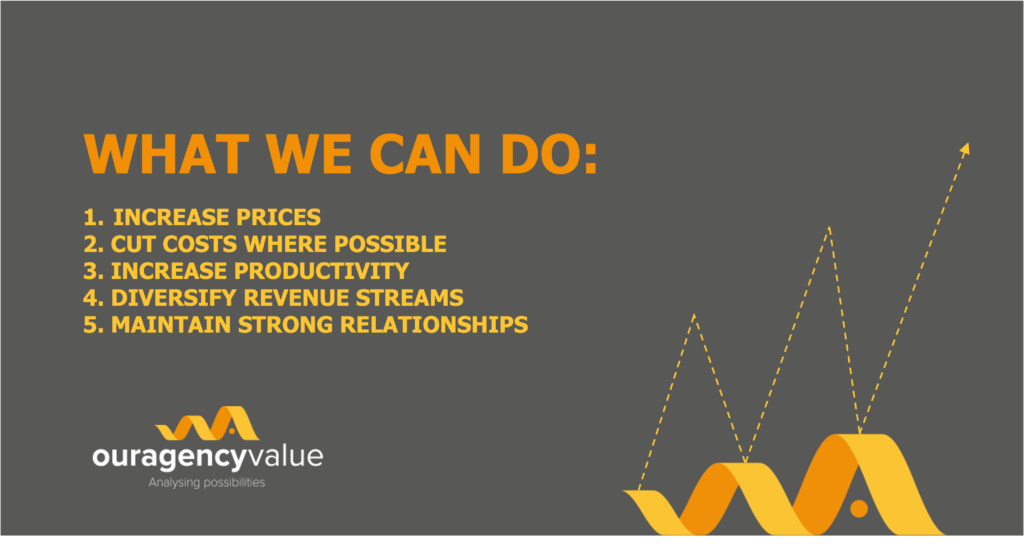 Yesterday we held an agency round table discussion on how increased inflationary pressures is affecting business. After an initial discussion on the immediate outlook for 2023, which is likely to be challenging, we agreed on a few strategies that marketing agencies can use to mitigate the effects of inflation and continue to increase value of their agencies.
Increase prices: As inflation increases, businesses may need to increase their prices to maintain their profit margins, typically by 10-15%. However, it was agreed to be sensitive about price increases to avoid losing Clients. Conduct an audit and Client NPS survey to determine how much Clients are willing to pay and adjust prices accordingly based on Agency spend this year.
Cut costs where possible: Cutting costs will also help Agencies maintain profitability in the face of inflation. Identify areas where costs can be reduced without compromising the quality of creativity and strategic planning. Agencies suggested renegotiating contracts with suppliers, undertaking training and coaching in-house, reduce investment in back-office services, where possible discuss 4-day week contracts and limit new business pitches to referrals and budget visibility only.
Increase productivity: Improving productivity will also help i.e. do more with less, encouraging them more efficient and profitable. This can involve less face2face meetings, improving the quality of briefs and incentivising productivity ideas. One clever idea was highlighted by an agency that involved setting up Client / Agency efficiency club.
Diversify revenue streams: A diverse revenue stream are also helping Agencies weather inflation by reducing dependence on any one or two creative or digital services. Explore new markets, develop new tech or digital services, or partner with other Agencies to expand offerings.
Maintain strong relationships with Clients and suppliers: Inflation can strain relationships with Clients and suppliers, but maintaining strong relationships can help businesses weather difficult times. Communicate more regularly with Clients, be transparent about price increases, and find ways to add value to the relationship. Avoid at all cost treating Clients or projects as 'transactions' or budget lines on a spreadsheet.
By implementing these strategies, UK digital marketing agencies can build value and maintain profitability even when inflation continues to affect us.